WHERE TO FIND US THIS WINTER
Markets and Popups
Brighton :
The Pop Up Club, Duke's Lane, Brighton, UK (Until Christmas Eve)
London :
Spitalfields Market, London E1 6AA
19th, 26th November
10th, 13th December
8th, 13th, 20th January
We call them Supersandals, and you Oceanhero.
Have you ever stopped yourself before leaving the house and thought: Ah, I can't wear my flip-flops anymore because they are made of plastic? No? Well, maybe it's time you should.
See, wearing sustainable footwear isn't just for the Planet Protectors or the Millennial Green Team these days. It's for the Funky Footwear Force and the Slip-on Slayers. It's for the Thoughtful Trendsetters and travellers, the Cosy Combo Crew and the crazy one. It's for the Aquaholics and Saltwater Junkies, the Wave Riders and the catchers. It's for the Happiness Warriors, Karma-Crusaders and the Do-gooders.
Sure, you might think "But, it's just one pair of flip-flops!" but imagine - imagine if everybody had that attitude. What would happen? Millions of washed-up lost soles by our oceans, coasts and beaches each year, that's what.
But, we've got you afloat - because Nuos are made from those!
As now sole survivors they are given a second life, and you'll be stepping on the very thing we're trying to fix. You'll be like an Eco-Avenger battling plastic using villains at every step but instead of a cape you have sandals.
Wearing sustainable footwear is for everyone, including you!
Join us now and become an ocean hero today.
Learn More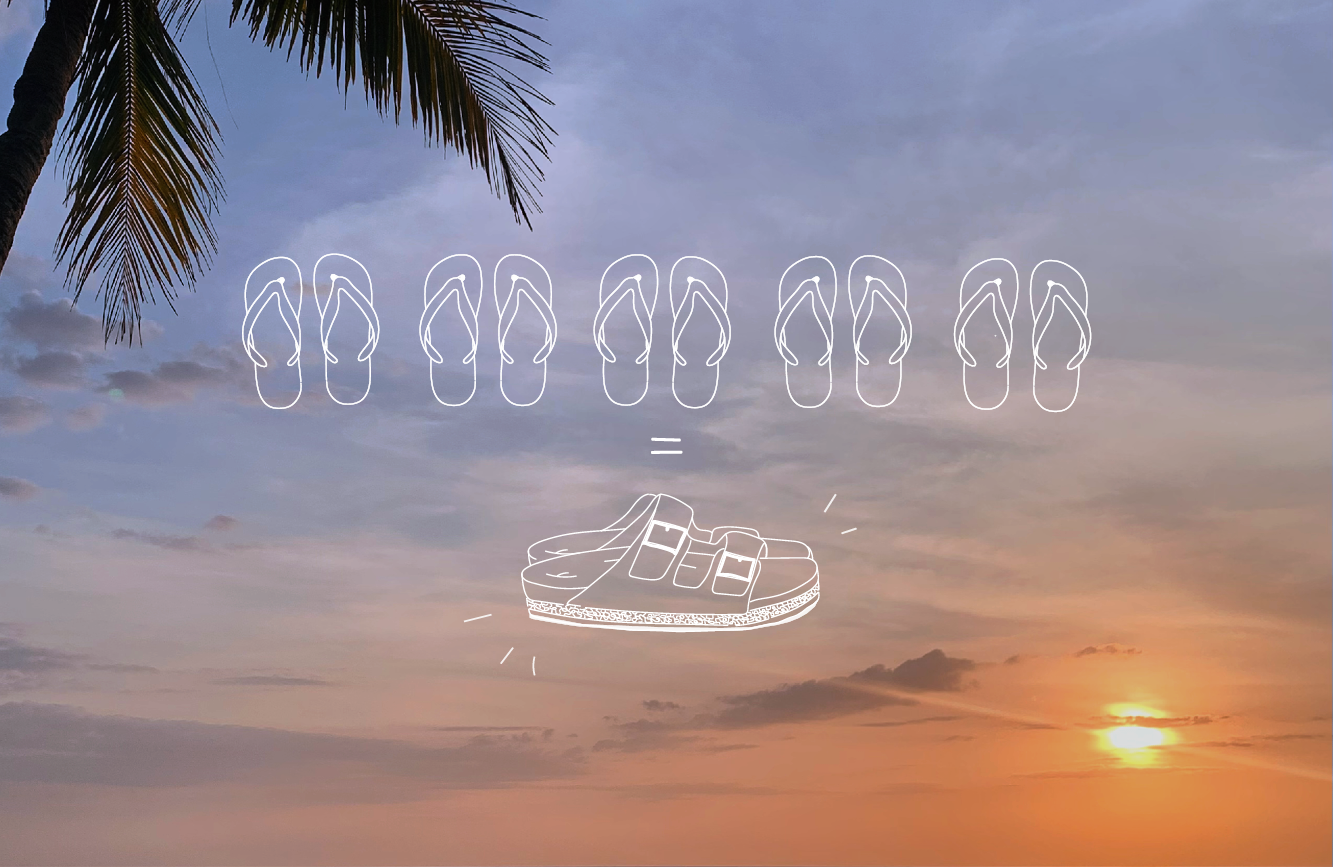 From lost soles,
The colourful middle layer of our models is made from discarded flip-flops collected from rubbish-strewn coastlines - these are cleaned, shredded and pressed to create the special, colourful Nuo soles. Each pair of Nuos cleans around 5 old pairs (500g) of flip-flop waste from our oceans.
to sole survivors,
The recovered flip-flop sheets go to our manufacturer in Spain where the Nuos are assembled using other recycled and 100% vegan materials. The colourful layer is what makes us stand out in a sea full of sandals! Due to using waste materials no pair will ever be the same as every colour mix is unique.
to sole mates.
Nuos are made to last. They're designed to be timeless, comfy, durable and fight further ocean pollution. Once they do reach the end of their life, our circular economy process ensures that our sandals never pollute our oceans or lands again. We'll take back your worn-out pair and give them another life!


Become part of our community
Sign up and get 10% off your first purchase and enjoy special news about our products
We uphold a strong commitment to ethical manufacturing practices, and all our products are made in a certified factory in Spain under fair working conditions. We are also committed to working with like-minded suppliers all around the world. From our delivery company that provides safe workplaces for people with disabilities to local initiatives in Thailand which focus on helping to keep our oceans clean.
We are proud that every pair of Nuos sold removes five discarded pairs of flip-flops from the oceans which equals 500g of ocean waste! We strive to make the most sustainable products possible and use recycled materials wherever possible and throughout all our products. We constantly improve our materials so we can ultimately reach a fully recycled & recyclable product!
We use 100% vegan materials and it goes without saying that we never test on or harm animals in the process of making our ocean-loving sandals.
We care about the end of life cycle of our products and are committed to implement a recollection plan in the future. Please check 'The Nu way' tab for more information.
Furthermore, we are addressing SDG goal #12 "Responsible consumption & production" and #14 "Life below water"